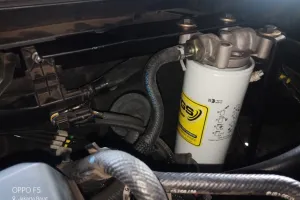 Sayangi mobil anda!
Sayangi mobil anda!



Jika Anda memiliki SUV diesel, van, atau 4WD, kami harap Anda baca artikel ini ,karena apa yang akan kami katakan akan sangat mengejutkan. Tidaklah berlebihan untuk mengatakan bahwa ada risiko bahwa setiap tangki bahan bakar yang Anda masukkan ke kendaraan Anda membawa risiko kontaminasi air yang dapat menghancurkan seluruh sistem bahan bakar dan bahkan mesin dalam kilometer! Walaupun mengisi dari pertamnina bermerek/ minyak berkualitas Dan tidak terlalu sering bepergian - setiap kendaraan berisiko. Itulah mengapa sangat penting bahwa Anda memasang saringan tambahan solar tgs ke mobil anda

Jadi dari mana datangnya potensi kerusakan, dan mengapa Anda harus memasang tambahan saringan solar tgs kendaraan Anda? Masalahnya adalah dua kali lipat. Pertama, ada peningkatan jumlah kegagalan sistem bahan bakar yang disebabkan oleh air dalam diesel berkat tangki pertamina di seluruh negeri yang menua dan berkarat.





Jadi mengapa Anda tidak bisa mengandalkan filter bahan bakar pabrik Anda, terutama jika memiliki lampu peringatan untuk memberi tahu Anda ketika itu diisi dengan air? Masalahnya adalah saat lampu peringatan menyala, seringkali sudah terlambat. Pada tahap itu, ada peluang bagus bahwa air telah berhasil melewati filter bahan bakar pabrik Anda. Pada saat Anda berhenti di sisi jalan untuk menyelidiki, mungkin sudah terlambat dan kerusakan mungkin sudah dilakukan.

Untuk mobil diesel modren, injeksi commonrail adalah hal umum untuk mendapatkan HP dan torsi yg besar, cuma masalah terbesar dari mesin commonrail adalah kualitas dan kebersihan bahan bakar solar.

untuk mengatsi kualitas solar yg buruk , sangat disarankan memasang extra filter. pilihan extra filter juga ngak boleh sembarangan, harus sesuai sengan kapasitas mesin( Flow & Micron ). juga harus diperhatikan kualitas desain breket dan selang, yang mana breket dan selang sebaiknya tinggal pasang " plug and play "


- Satu-satunya Filter dengan 5 lapisan stratapore yg mampu menyaring emulsi ( air yg telah bercampur dengan solar )

- Satu-satunya Filter dengan 5 lapisan stratapore yg mampu menyaring emulsi ( air yg telah bercampur dengan solar )

- Extra Fuel Filter TGS memang didesain khusus untuk aplikasi sebagai Pre filter mesin kapasitas 8000cc – 500 hp

- Dgn Flow rate antara 90 GPH , tidak akan menyebabkan resistansi dari pemasangan extra fuel Filter ( untuk mesin 2500cc 170 HP Cuma membutuhkan 32 GPH )

- Stratapore memiliki daya serap kotoran yg besar & efisien ( 30 kali lebih besar dibanding saringan OEM biasa /cellulosa - capasitas hingga 72 gram ), sehingga bisa bertahan hingga pemakaian 30.000km

- Aplikasi pre filter tidak mencopot selang OEM & ukuran diameter selang tetap seperti OEM ( tidak terjadi hambatan di selang )

- Untuk aplikasi di mesin Tanpa Common rail, mengunakan FS1000 10 micron. pemasangan filter tambahan setelah filter utama OEM

- Untuk Aplikasi di mesin Common rail, mengunakan filter 10 micron absolut , pemasangan filter tambahan sebelum filter utama OEM




A DEEPER LOOK AT SPRING VS. AIR

A DEEPER LOOK AT SPRING VS. AIR
Suspension systems contribute to a tractor-trailer's road handling and ride quality (the vertical acceleration to which a tractor-trailer is exposed). Keeping the tires in contact with the road as much as possible, suspension systems help minimize the amount of jarring (bumps, vibrations) for improved load-carrying ability, protecting the trailer and the freight inside from being damaged.
Wheels alignment report
Please see below email from our Local Sales Manager reporting the feedback to Kristian after one of our dealers install UCA001FA on his Hilux Revo ( he's putting oversized tire too )

I'm not sure how important is wheel alignment in your market but it's very important to do proper wheel alignment after raising the vehicle with suspension upgrade ( changing spring )